COMMISSION KIT BUILDING SERVICE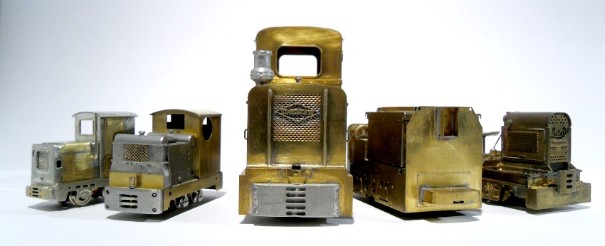 Nonneminstre Models is now pleased to be able to offer a commission kit-building service.
We can quote to build most model railway kits from most manufacturers, no matter what prototype, although we particulary specialise in narrow gauge and industrial standard gauge models in whitemetal, brass, resin or plastic ranging in scales from 4mm to 16mm.
We can also quote to supply any of our current Nonneminstre Models kits as ready-to-run, either in bare metal, grey or etch primer.
Below are some example galleries of recent builds.
Please contact us to discuss your requirements.
RECENT BUILDS
Click the thumbnails for a larger image
Oakville GWR 14xx 0-4-2T 7mm scale, 32mm gauge on a Slaters chassis kit. This proved to be a difficult build, with a poory designed and inaccurate base kit. Therefore much of the model was either heavily re-worked or replaced with scratch-built alternatives.
Chivers Diema DS40 7mm scale whitemetal body kit running on a Tenshodo/Hanazono SPUD for 16.5mm gauge, prior to priming.
KB Scale Deutz OMZ 117, 7mm scale 14mm gauge. Mostly etched brass with whitemetal details. Fully soldered construction with compensated chassis. Some details left loose to aid painting.
Brian Madge 009 Ruston LBT, 4mm scale 9mm gauge. A very small etched brass and nickle silver kit with micro-motor belt driven chassis, fully soldered construction.
Meridian Models 009 Ruston, 4mm scale 9mm gauge. Etched brass and whitemetal kit using the suggested Minitrix chassis. All soldered construction with alterations to the buffer blocks to better represent the prototype.